Make smart phone extension
Products:MOT/PBX M-V2、SIP Phone-10 Base:Multiple bases
Situation
・55 units of extensions (20 units are mobile phone for FMC) ・Use optic fiber ・Use other LAN cables in case of telephone and data ・Use  smart phone as extension in the office, and use smart phone as mobile
Issue
・It is not easy to use mobile phone which company lend.(Hold, Transfer and so on) ・It takes cost to call with mobile phone which company lend, so using the mobile phone doesn't lead to cost reduction. ・The mobile phone which company lend is not compatible with transferring a call which is received by s employee.
Demand
・To originate and receive a call with smart phone with individual external number in and out of the company ・To improve usability for transferring and holding on the smart phone side ・To reduce the cost for a call between office phone and mobile phone
Content
・Install MOT/PBX M-V2 and 4 units of wireless access points in a floor. Construct extension network by wireless LAN in the office and by packet network out of the office.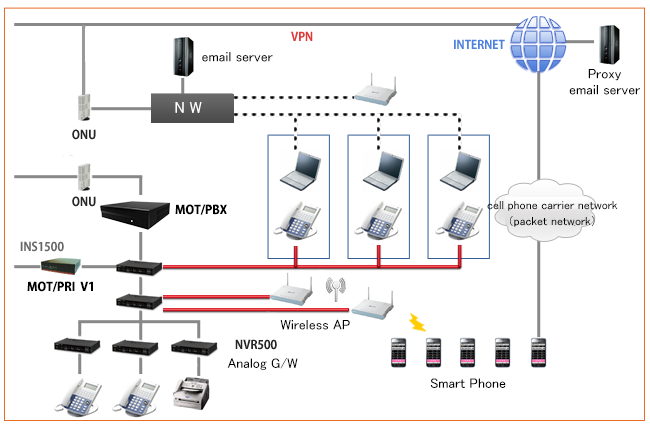 Make wiring in the office much easier by reducing business phone to 10 units and replacing most business phones by smart phones. As a result of that it is possible to hold and transfer an extension call with smart phone and reduce the cost for mobile phone.
---
2016年1月8日 1:00 PM | Category: Office
---
---
1(858)505-9404

Office hour weekday 9:00~17:30